Tips for Dressing Sharp as a Petite Woman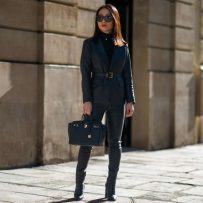 Are you a petite woman who is looking for tips on how to dress sharp and chic? If so, you've come to the right place! We understand petite women can sometimes feel overwhelmed when shopping online or in stores. It can seem like everything was made with taller frames in mind! But never fear – we're here with some helpful advice on investing in pieces that will flatter your figure and provide insight into what trends are most flattering to shorter bodies. So keep reading if you want insider knowledge about getting dressed up for special occasions or simply sprucing up your wardrobe for everyday looks.

How to dress to flatter your petite figure
Choose Mid-Waisted Bottoms: To create a more elongated figure, opt for mid-waisted bottoms such as skirts and trousers that sit right above your hipbone. This will help to lengthen and slim your silhouette by creating a straight line from the waist down.
Wear Fitted Tops: Instead of wearing loose tops that can make you look shorter, choose fitted pieces that hug your curves and don't overwhelm your frame. A tailored button-down blouse or turtleneck is an excellent choice for any petite woman.
Avoid Bulky Fabrics: Bulky fabrics like corduroy and tweed can add unnecessary volume, which can overwhelm your frame and make you look shorter. Instead, stick to light fabrics like cotton, silk, or jersey that will skim your body without adding bulk.
Choose Heels: Flats are great for keeping you comfortable but it's important to remember that a little heel can go a long way with petite figures. A small pair of heels or wedges will help to elongate your legs and make you appear taller.
Accessorize Strategically: Accessories such as statement jewelry, bags, belts, and scarves can draw attention away from the lack of height by creating focal points around different body parts. However, be careful to do it with only a few accessories as this can lead to a cluttered look.

What clothes should petite girls wear?
Petite girls should opt for clothing pieces that enhance their frame and make them appear taller. Clothes with vertical stripes, wrap dresses, high-waisted skirts, monochromatic looks, tunics, fitted jackets, and ankle-length trousers are all excellent options for petite girls. When it comes to shoes, opting for pointy-toe heels is a great idea as they create the illusion of long legs. Additionally, wearing pieces that draw attention away from your middle can also help make you look taller. To do this, try adding statement necklaces or a belt to balance out your silhouette. Finally, layering clothes can give off an elongated effect as well. The key is to keep everything tailored and fitted without looking too tight or restrictive. Petite girls can achieve a flattering look by focusing on vertical lines and proportions while still accentuating their figure.
With the right clothing choices, petite girls can look stylish and elegant at any occasion. By following these tips, they'll be able to create feminine and sophisticated outfits that flatter their figures. With the right fashion sense, even the smallest frame can make a big statement!
Good luck! Enjoy shopping for clothes that make you feel confident and beautiful!